Dogs are naturally happy animals. They just love to play and enjoy their environment. This carefree attitude makes men drawn to these very friendly animals. If you have a pet dog and you enjoy their company it is very easy to develop a passion for them, to think, and to take care of their welfare. So it should be on top of your priority list to make sure that your dog is happy all the time. One good way of elevating that happiness is to consider doggie strollers for his use. Strollers for dogs are a good way to widen your dog's reach over his known universe, which is about the four corners of your home plus two blocks from either direction of your street.
Dog strollers can spare your dog from the long walks that might be needed to go to a good spot to just relax and enjoy the setting sun and the fresh air. These moments are well treasured by your dog, and through the dog stroller, you are making sure that he has the best seat in the world to enjoy the beauty of nature.
Puppies strollers can also enable your dog to reach places he could never reach on his own four feet. Giving him a chance to expand his horizons and make his experiences in life richer. There are bike trailers that are still classified as puppy strollers that can be taken to a rough road up a mountain trail. You can also have a jogging doggie stroller that you can take your dog to that charity marathon and let him experience that rush of going faster than just that typical push around the neighborhood. As small as these things must be for you and other people, for your dog you already gave him more reasons to live and to be happy.
Dimensions of this product are 35 by 16.7 by 15.8 inches and it weighs 35 pounds. The pet gear NV stroller removes the hassle of opening and closing the stroller with its new no zip technology. You can easily keep in contact with your pet without fumbling with difficult zippers. The NV pet stroller features an elevated paw rest for the full comfort of its inhabitant. Your pet can enjoy the view around the stroller by using the front bar for support. The new panoramic view window allows it to safely enjoy inside the stroller, missing no sights along the way. The front locking wheel lets you navigate the stroller over rough terrain with ease, whether jogging or strolling. The pet gear no zip also features air tires for a smoother ride. A plush bolster pad and new stylish colors and embroidery. Its suitable strollers for pets up to 70 pounds.
 the hpz pet rover premium heavy-duty stroller. Dimensions of this product are 30 by 22 by 42 inches and it weighs 22 pounds. This stroller features a one-hand simple mechanism that lets it quickly fold and unfold within seconds. It's collapsible lightweight and takes up minimal space when folded. It's designed with a premium human-grade suspension system featuring comfort ride wheels. 360-degree rotating wheels and rear braking system. Extra-thick heavy-duty but lightweight frame is made with stainless steel tubes and aluminum alloys. The robust construction of the stroller makes it extremely durable. The size of the internal compartment is customizable so it can hold pets of different sizes. The breathable mesh top cover is made of high density odorless and UV reflective material. The stroller also features a large volume under the basket, three smaller accessory bags, and a bottle holder to provide full convenience for long walks.

Vivo three-wheel pet stroller dimensions of this product are 32.8 by 15.7 by 7.5 inches and it weighs 11.7 pounds. The Vivo pet stroller provides a first-class travel experience for your pet. This durable three-wheeled stroller offers a smooth and safe ride whether you're taking a quick stroll around the block or a long jog through the park. Three zipper access points allow you to get your pet in and out in no time conveniently. The spacious interior features a padded foam bottom for maximum comfort. And fully breathable mesh windows provide your pet with a great viewing experience. The top mesh windows let you keep an eye on your pet during the walk. The top of the carrier collapses back to create a large opening so your pet can enjoy the fresh breeze and travel in style.
the best pet travel three wheels waterproof stroller dimensions of this product are 29.5 by 17.7 by 38.2 inches and it weighs 13 pounds. The best pet travel stroller is made of a durable mesh that provides airflow visibility and keeps insects out. The oxford cloth of the stroller is sturdy and water-resistant. Large 6.3-inch wheels navigate easily over smooth or rough terrain. The front wheels can be rotated 360 degrees without dead ends, and you can turn on the straight without interruption. This pet stroller features a convenient cup holder near the handle. Roomy design and a large undercarriage. There is also a hooded peak top window. The pet stroller is lightweight and easy to set up within minutes with the installation manual. And no tools are required when not in need it quickly collapses for convenient storage.
Dimensions of this product are 33 by 15.4 by 7.1 inches and it weighs 13.3 pounds. The pet carriage by paws and pals lets you transport your pet in style. With the canopy that can be lowered down for a full convertible ride. It's a great option for small injured or senior pets that can't last long walks. The front zip entry and footboard step provide easy loading and unloading of your pet. Alternatively, you can use the back zip too. The stroller folds compactly with the press of a button on the handle and takes minimal space to store. This stroller features a comfortable mattress. So your pet can sit or sleep in absolute bliss. It's designed to dampen the impact of kinetic energy with shock absorbers located on the front wheels.
If you are looking for a stroller for large dogs, I recommend reading this article:
Large dog stroller – Dog stroller large breed
I'm sure it will help you decide on the model of a stroller for large dogs.
Cheap dog stroller jogger is Practical Things
Dog strollers might appear to be an unusual idea to you in the beginning. A stroller for pet can be a useful thing if you have a dog recuperating from an injury or if your dog is small and has difficulty keeping the pace.  If you frequently hold your small breed dog in your arms as you run errands, a dog stroller might be just the thing for you.
Let's look at some other scenarios that might cause you to want to consider doggie strollers for small dogs. When weather permits you may go to outdoor parties and get-togethers.  Taking your dog along might be fun. You may have to deal with other dogs, crowd noise, and trash on the ground.  Strollers for dogs can provide a secure environment away from other dogs and keep him from chewing on something he should not.
If you have become accustomed to a dog cage, you will especially like a small pet stroller for dogs.
Summer heat and winter cold can be difficult for your dog's paws.  Keeping his feet off the ground with a dog stroller will make him happy. These strollers for dogs are like a stroller for children, except a net encloses the dog stroller. An animal should not be transported in a baby stroller.  If your dog were in a baby stroller and became distracted he might jump out of the stroller.
In the summer, the mesh provides good air circulation. Most strollers provide shade from the summer sun, so you won't have to find a special spot to park the stroller. If an aggressive dog comes near your dog will be as safe as though he were in a dog cage.
If your dog has been sick or injured, he will look forward to getting outside and getting some fresh air. Any animal is excited about getting outside to have a look around at his world. He will be comfortably seated and happy as can be.
If a trip to the vet is necessary, a stroller will make this chore easier. If you have a whole litter of puppies to take to the vet, you will appreciate the stroller even more. Just put them all in the stroller and they will be confined in your car and in the vet's office. If your dog is recuperating from an illness, he will feel more at ease around other animals if he is in a stroller. His feet will be shielded from the floor where other sick animals have been.
Strollers come in all sizes and colors. You can even find a nice pink dog stroller for your little female or a blue one for your little boy. Some strollers are made to be attached to a bicycle if you wish.
Prices vary a great deal depending on what features you desire. If you pay more for a stroller, you can expect to get shock absorbers on the wheels for a more comfortable ride. Larger diameter wheels on these units will allow travel over rougher terrain.   Strollers come in many sizes depending on the size of your dog.  You can expect to pay more for the larger units.
All terrain dog stroller Keep Your Puppy Happy
Dog strollers can prove beneficial for canine lovers in so many ways. If you have a small dog that cannot keep pace with you while walking or an older dog with health issues you should consider a dog stroller. If you have one of the miniature breed dogs that spend more time in your arms than on the ground a stroller could be helpful. There are lots of uses for a stroller. Let's discuss some possibilities.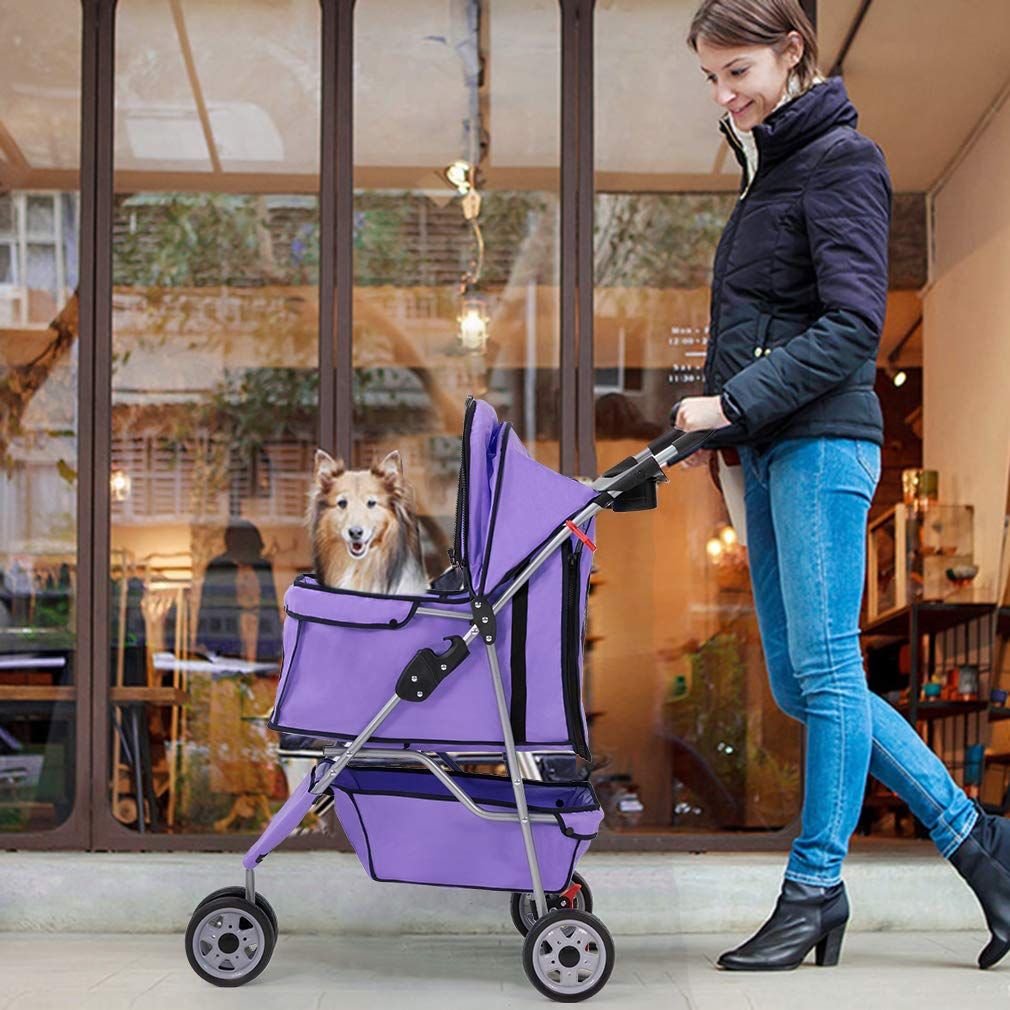 In the summer you may go to a cookout, a concert, or other outdoor event where your dog would be welcome. You and your furry friend will enjoy being together rather than leaving him at home. There will be times when you will encounter large noisy crowds and other animals in public. If your dog is housed in a nice safe stroller, he will feel comfortable and protected inside. A stroller for dogs will be much more welcome than a dog crate for you and your doggy.
Icy streets or hot pavements can be rough on your dog's paws. A stroller can provide protection from other weather elements, such as rain. His feet will remain dry and clean and make your life easier.
Dog strollers are patterned after the basic baby strollers, except the dog stroller is enclosed with a mesh top. Keeping him enclosed will prevent him from jumping out to go chase another animal and possibly being injured. The open mesh top provides plenty of ventilation for his comfort. The tops are designed to provide shade from the sun during the summer.
A dog stroller will keep your animal contained and safe from other rowdy animals. If your dog has been ill and is unable to walk easily, he will appreciate a nice ride in a stroller to get some sunshine and fresh air. He will feel much better after having an opportunity to be outside.
If you are planning to take your animal to the vet, a stroller can come in handy. Or maybe you have some puppies to take for their vaccinations. Keeping them inside a nice safe stroller will make your trip go smoother. A dog that is getting over an illness will feel more comfortable and secure inside a stroller. Keeping his feet off the floor where other sick animals have walked will be a good thing.
There are many styles and colors of cheap pet strollers for dogs available. A pink dog stroller could be appropriate for a female dog or a blue one for a little boy dog. There are even strollers that can be attached to your bicycle. The cost will depend on the features you wish to have.  The pricier strollers are likely to come with larger wheels and shock absorbers for a really smooth ride. The size of the stroller will also affect the price. Strollers for larger dogs tend to be more expensive.
The Convenience of a jogging pet strollers
The concept of a dog stroller might seem a little strange to you at first. If you have an older dog that has difficulty walking or a small puppy that has difficulty keeping up the pace, a dog stroller could be a problem solver. If you find yourself carrying your little dog when you are out in public, a dog stroller might be just the thing you need.
Let's discuss some many other reasons a dog stroller can make your life easier.
It can be fun to take your dog along to concerts, cookouts, and other outdoor events. On the other hand you may find yourself having to cope with other animals, rubbish on the ground, and crowd commotion. Pets strollers for dogs can provide your animal with safety and security and prevent him from being injured or eating something he should not.   If you have been carrying your dog in a crate, you will enjoy the ease of a stroller.
Extremely hot or extremely cold weather conditions can be hard on your dog's feet. Carrying him in a stroller can protect him from the elements.  His paws will be kept clean as well.
A dog stroller differs from a baby stroller in that it is enclosed by netting. A baby stroller really will not suffice for an animal. If another animal catches his eye, there will be no concern about him jumping out of the stroller.  The mesh allows for good ventilation and most strollers for dogs provide protection from the sun so that you don't have to worry about finding a shady spot to park your animal.  If you encounter an offensive animal, your pet will be secure inside the stroller just as if he were in a dog cage.
If your dog has been ill, being able to get him out for a walk in the fresh air can make him feel better and cheer him up. Your animal is always energized by the opportunity to get out and see the outside world. You'll put a smile on his face and he will be riding in comfort too.
Dog strollers can make it easier to take your puppy to the vet. If you have a litter of puppies to take to the vet, your job is made simple.  Keeping them confined in the stroller will keep them from wandering all over the car or the vet's office.  If your dog is recovering from an illness, he will feel more secure in the dog stroller both in your car and in the vet's office where there are other animals around.  Also, his feet will be kept off the floor where other animals with illnesses have been walking.
There are many types and sizes of strollers available. Some can even be attached to a bicycle or pushed by hand.   The more expensive strollers are equipped with shock-absorbing wheels that are larger in diameter for a smoother ride. Larger wheels allow you to roll the stroller over rougher ground.
Another factor affecting the price is the size of the stroller. Larger ones tend to be more expensive.
A Pets Stroller for Your Furry Friend
A pet stroller can be a special way of pampering your pet and provide convenience for yourself. Pet strollers for small dogs are becoming extremely popular with owners of dogs, cats, and other animals. The thought of pet strollers cheap for dogs may come as an unusual idea at first, but owning one can be beneficial for you and your furry friend. In this article, we offer several tips to help you buy the right stroller for you and your pet.
One of your first considerations should be the size of the stroller. Strollers are often rated on how much weight they can carry. Keep in mind that an animal that weighs near the stroller's weight limit capacity may not be comfortable in the stroller. Take into account the inside dimensions of the compartment and make sure your pet can sit, lie, and turn around easily.
Also, think about the surfaces where you will be using the dog stroller for small dogs. If you will be traveling over rough or bumpy ground, be sure to choose a stroller with larger diameter wheels. Some models are available with shock absorbers on the rear wheels to make the ride smoother.
If you are a jogger, you may wish to consider a three-wheel model, as they are easier to push while jogging.
The small animal stroller that convert to a car seat or pet carrier can now be purchased. Also, some are collapsible. Determine if you want any of these features in your stroller. These features are generally found on smaller strollers and may not be helpful for larger animals.
If you think your pet would benefit from some privacy, there are strollers with privacy areas. These strollers typically have two compartments. One has open mesh so your pet can see outside and the other is enclosed for privacy. The Happy Trails pet stroller has this feature if you are interested.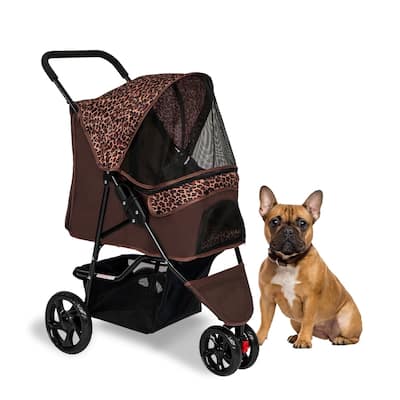 If you do not plan to go out in the rain most any design will be fine. If, however, you plan on going out in rainy or cold weather, be sure to choose one that affords the extra protection needed.
Don't forget to consider some of your personal conveniences as well. Maybe you would like to have a cup holder for your water bottle. A little pocket for pet treats might be nice. How about a pocket for your cell phone? Be sure to keep yourself in mind when choosing the right pet stroller.
Here are a couple of thoughts on getting your pet acclimated to his new stroller. Bring your new stroller home and place it in plain view and put some treats inside. Give your friend a chance to explore it on his own. Don't forget to lock the wheels so it does not move around on him as he crawls inside. Sometimes a dog or cat will treat the stroller as his bed. Another way to get your pet used to the stroller is to place a favorite blanket inside to entice him. Your pet will associate the stroller with safety.
Dog Strollers for Owners On the Go
A dog stroller can let the little dogs get off the porch and run with the big dogs. There is a large selection of dog strollers that are high quality and easy to push. The little canines often enjoy a ride in the dog stroller. These look so cute being pushed down the sidewalk while you are going to visit friends or go to a dog park. Little furry friends with little legs get tired more easily than big ones. They might not handle a long walk, but still, really want to get out of the house with you. A lot of toy breeds feel very anxious when not with their humans and really want to be with them all the time.

These are sold a lot online and may be found in local pet stores. The price can be as low as fifty dollars, but you usually get small wheels on the cheaper models, which only work on the sidewalk and other smooth surfaces. They would not be good for jogging with your pet. Large bicycle-type wheels like the ones you see on jogging strollers for babies are ideal for a smooth, easy ride on almost any surface. The others frequently get stuck and cause a lot of frustration.
The Pet Valet Dog Stroller and Carrier is a cheaper model with small wheels. However, the carrier part comes apart from the stroller and the manufacture claims it can be used as a dog car seat or an airline carrier. It may work for somebody who travels with their pet a lot but does not push the canine around in the country or on rough ground. A similar model is the Pet Trex three in one deluxe pet stroller.
For really active owners or those who spend a lot of time pushing animals across rough ground, there is the Kyjen Outward Hound Doggie Jogger Stroller. It has nice large wheels for easy going over most surfaces. Customers have reported it takes less than ten minutes to assemble and worth the price. It can be found for less than one hundred and fifty dollars. For about the same price you can get a dog bike trailer stroller combo. This can work for pets that weigh up to one hundred and fifteen pounds. Or you can push around a bunch of little ones. Maybe let the whole litter of puppies go with their mother on her walk. It can also be attached to a bicycle.